5 Benefits of Power-Washing Your House
Has your once-pristine property lost its luster? Don't forget that home maintenance also means taking care of the exterior of your house. And one way to bring your home back to its former glory is to power-wash it.
"Power-washing your home really gives the exterior a good cleaning, washing off any cobwebs and grime," says Christine Dupont-Patz, broker associate and co-owner of Re/Max of Cherry Creek in Denver.
The cost of power-washing a house depends on the size and complexity of the job, but on average homeowners will pay 15 cents to 75 cents per square foot for a professional to complete the job, according to Angi. If you opt to rent a power washer and take care of the mess yourself, you can expect to spend $35 to $175 per day, depending on where you live.
Experts say you should aim to power-wash your home once or twice a year, during the spring or fall, depending on how dirty the house is.
Need a few more reasons to give the outside of your house a deep clean? Here are the top benefits of power-washing the exterior of your home.
1. Power washing refreshes the paint job
If you're going to spend all that money to have your house painted, you might as well extend the life of your investment with a good power wash.
"Some popular colors such as farmhouse whites and charcoal grays can show dirt pretty easily, especially in areas with red clay soil or blowing sand," says Dupont-Patz. "A power wash can make a recent paint job look fresh and new again."
And if you ever need to paint your home again, power-washing before painting will eliminate any dirt and grease so the lacquer goes on smoothly and bonds with the siding.
2. Power washing bumps up curb appeal
Part of prepping your home to sell should include a good power wash so the exterior of your home will impress potential buyers at first glance.
"Power washing can improve the look and curb appeal of your home by washing away years of built-up dirt and grime," says Mallory Micetich, home care expert at Angi.
3. Power washing can help you catch problems early on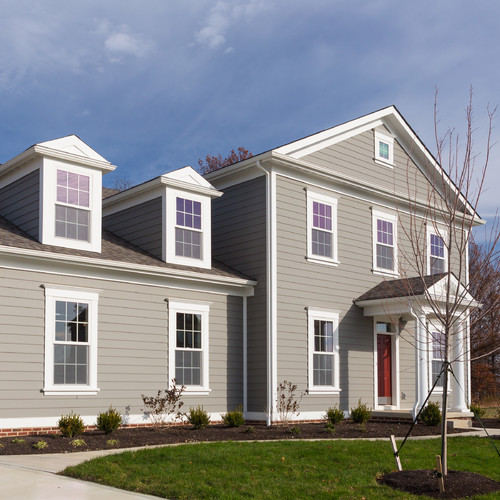 A dirty exterior can sometimes mask issues with the siding of your house that need to be repaired.
"Look for any small gaps or holes, loose boards, even nesting insects," says Dupont-Patz. "Nipping any small problems in the bud can save a homeowner thousands of dollars later on."
She recommends power-washing the house yourself to get a sense of the areas that need attention.
4. Power washing blasts mold and mildew
If your allergies have been worse than normal lately despite your ultraclean interior, try cleaning the exterior of your house.
Ken Fisk, director of technical services for Window Genie, says washing your siding can remove mold and mildew that can be dangerous to your family's health and prevent it from getting inside. Plus, it can take the pollen away so you can breathe better.
"Some buildup, like mold and algae, can damage the siding of your home over time," says Micetich. "Power washing removes these substances, leaving the exterior of your house healthy and clean."
5. Power washing extends the life of your exterior siding
The cost to replace siding depends on the material and the size of your home, but it's an expensive home improvement that can be avoided with regular power washing. According to Angi, the average cost to replace siding is $10,300.
"Keeping the outside of your house clean is very important to prolong the siding, hardy plank, stucco, or whatever the outside surface of your house is made of," says Fisk.
Micetich suggests hiring a pro to wash your home, since she says "some exterior siding materials, like vinyl, are delicate and need to be power-washed by an experienced professional."
For instance, Dupont-Patz says her husband ruined their wooden front door when power-washing the house on high pressure—and ended up having to buy a new door.
However, if your home siding is made of brick or concrete, you're probably in the clear to rent a power washer and do it yourself.